I have posted this up in the General Shortcourse section too, but seeing as this contains some parts from a Mini Trophy, I thought I would stick in here as well. Enjoy!
I found a HPI Mini Trophy on ebay a few months ago because I was getting the trophy truck itch and I had seen a few guys had done a fairly simple looking conversion on the Mini Trophy from the IRS to Solid Rear axle using an Axial SCX10 axle. I had an SCX10 so I thought, why not try it? 'How hard can it be?'
So I tore apart my beloved SCX10 and after an encounter with a dremel and a hacksaw, the mini trophy chassis was rendered in twain and I bodged the axle onto the back of the truck.
As time went on, I was a little disappointed with the performance of the mini trophy, mostly due to its super low chassis and the terrible job I did of cramming in the 4 link onto the chassis, so I decided to have another bash at it. This time taking inspiration from trucks like idealrc have built.
First job was to chop out all that I wouldn't need, which turned out to be everything apart from the from suspension assembly, which would leave me to build a whole chassis.
Cardboard test.
After I made the cardboard template I used some old Alu plate I had to make a metal mockup of the chassis to see how it would fit. Then I made a pair of upright panels to mount the rear suspension on.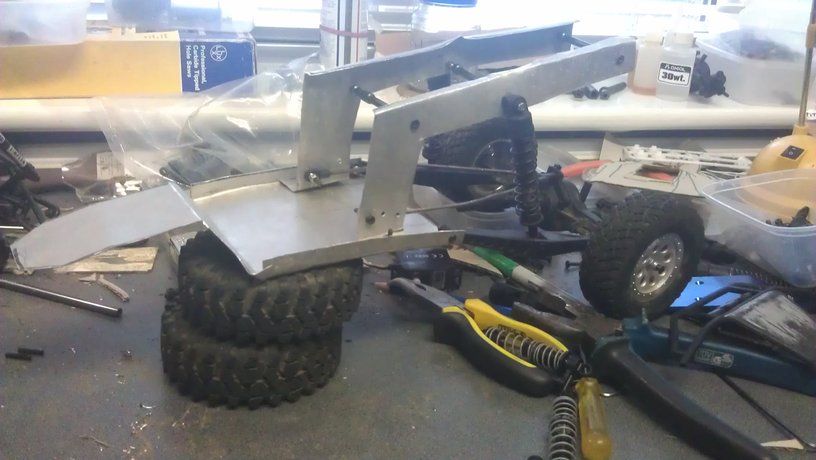 The next task was to make the actual chassis, I called round to a friend of mine who supplied me with a sheet of stainless steel, about 1mm thick. Turns out cutting and shaping 1mm thick stainless with only hand tools is a tough job, but 3 jigsaw blades and some shrapnel injuries later I managed to make something worthwhile.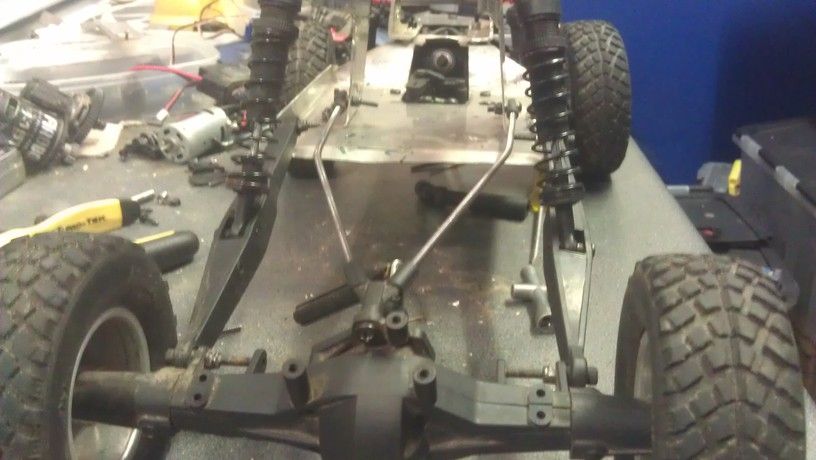 I am currently in the process of mounting up an SCX10 transmission between the two upright panels, its a tight squeeze! After that its just a case of finding somewhere to put the servo, and the finding some way of making that servo steer the wheels! Joy!
Thanks for looking! :D